Founder/Director Martha Wright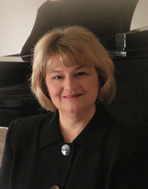 Martha Wright received her Bachelor of Music Education (BME) on an accompanying scholarship from the University of Central Arkansas in Conway as a voice major and piano minor. She has served in various music capacities as a soloist, accompanist, adjudicator, and conductor for school, community and church choirs. She has taught public school at all age levels as well as private voice and piano. A mother of four grown children, Ms Wright has six grandchildren. She resides in Germantown with her husband Doug.
The West Tennessee Youth Chorus, formed in 1996 as a touring choir began with Martha Wright's desire to give children an outlet to develop their musical talents. Two years later, the West Tennessee Children's Chorus was added as a training choir. The WTCC/WTYC educational emphasis is on teaching foundational music skills--sight-singing, ear-training and part-singing, vocal technique for the age level, educational performance, and service.
Quickly gaining a reputation as a premier children's chorus program, the WTYC has performed for an audience of 15,000 at the Kiwanis International Convention, made local television appearances, and toured Europe twice. Sharing the stage with the United States Navy Band, President Clinton and his family, Thomas Kinkade, Charlotte Church, Kathy Mattea, Billy Gilman, the cast of Fosse, Al Roker, and Dominique Dawes, the WTYC opened the nationally televised National Christmas Pageant of Peace--Presidential Christmas Tree Lighting held at the Ellipse on the White House grounds in Washington, D.C., December 11, 2000.
Martha Wright was invited back to open the Presidential event, sharing the stage with President Bush in 2004. The WTYC performed by themselves, as well as being accompanied by the United States Marine Band. The choir also performed with Connie Smith, Marty Stewart and his band, Carl Tanner, and Kimberly Locke, and others. Martha Wright and her group were photographed with President Bush and Fist lady Bush. Al Roker, the commentator, invited the group to perform the following morning o9n the Today Show.
Mrs.Wright's choruses have gained wide-spread media attention appearing on television numerous times in the Mid-South area, nationally and internationally. Two full-page color articles devoted to the choruses have been featured in the Commercial Appeal in Memphis, along with numerous other articles within the CA and other newspapers. Local concerts have included local celebrity guest performers and commentators.